HELLO, BEAUTIFUL!
Welcome to Liesa & Mary - your new brand for high quality women shoes ranging from size 41-47. 
Our styles are designed in Hamburg (Germany) and handmade produced in Portugal.
Any questions? Feel free to contact us info@liesamary.de or via Instagram @liesamary.de
LIESA & MARY @INSTAGRAM
We would love to see you wearing our shoes - so please tag us on Instagram that we can see your looks or use the hashtag #liesamarygirls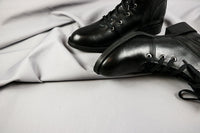 STORY
"And as my best friend Liesa & I sat together, and this summer night was for everyone, this wine was for everyone - we wondered why fashionable shoes were not made for everyone."
This label is dedicated to the wonderful sisters Liesa & Marie and to all women with the shoe sizes 41-47. We want you to feel beautiful and unique in every outfit - with the perfect pair of shoes.
SHOES MADE FOR YOU
Modern und zeitlos zugleich – bei Liesa&Mary findest Du die perfekten Schuhe für jeden Anlass. Wir rennen keinen schnelllebigen Trends nach, sondern wollen für Dich Schuhe kreieren, die Du lange tragen kannst, ohne dabei auf ein modernes Design zu verzichten.
Das Angebot bei Schuhgrößen für Damen in Größe 42 und größer wird leider schnell sehr schmal in vielen deutschen Innenstädten oder ist erst gar nicht vorhanden. Darauf haben wir bei Liesa&Mary reagiert und bieten Dir Damenschuhe in den Größen 41-47 an. Dabei verzichten wir bewusst auf den Begriffe wie Schuhe in Übergröße, Übergrößen-Schuhe oder Damenschuhe in Übergröße, weil diese nicht nur negativ belastet, sondern in unseren Augen auch schlichtweg falsch sind. Wer bestimmt schon, was zu groß oder zu klein ist?! Wir möchten damit Schluss machen und ein Label sein, was einfach Schuhe für Dich, Deine Bedürfnisse und Deinen Stil herstellt, egal ob Damen Schuhgröße 41, 43 oder 44. Bei uns findest Du Pumps, Sandaletten, Ankle Boots sowie klassische Stiefeletten in sehr hochwertigem Leder, produziert in Portugal.